Glacier Painting
Experienced. Quality. Craftmanship.
Madison Residential Painting Contractor & Refinishing Professionals
View Projects
Commercial Painting
Allow your commercial space to reflect your business. Utilize our color consulting services and customized quotes for your commercial painting project.
Residential Painting
Put Madison's most diligent residential painting contractors to work. Our experienced house painters will provide you with the best, hassle-free service you can find in the Madison metropolitan area.
Wood Restoration
As one of Madison's leading Wood Restoration & Preservations professionals, Glacier Painting offers a wide range of wood restoration services for our residential and commercial clients.
Since 1978
Creating loyal customers throughout the Madison metropolitan area.
Glacier Painting offers Residential Painting Services & Commercial Painting Services to Madison, Dane County, and all of Southern Wisconsin. We are fully licensed and insured & Encourage you to navigate through our website and take advantage of our Affordable Madison Interior Painting Services, Madison Deck & Wood Refinishing Services, & other residential & commercial painting contractor services.
Past Projects
Glacier Painting will provide an unparalleled understanding, in-depth product knowledge, expertise, and thoughtful customer service to give you the best experience with your Madison Home Improvement Project, Commercial Painting Project, & or Wood Refinishing Project.
How we work
Our personnel and staff have years of experience in the Residential & Commercial Painting Industry as well as the Wood Refinishing & Restoration Industry . We employ project managers that will guide you Step-By-Step through your home improvement project or commercial project. They are knowledgeable and friendly and will always be there to answer any concerns or questions that may come up during a job.
Our on-site foremen have years of experience in painting, construction, and running a work site efficiently. We also employ qualified and reliable painters and workmen who are professional and highly skilled.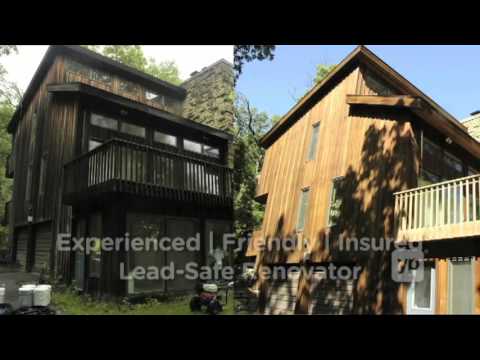 What Customers Are Saying
"We were so incredibly pleased with the work done by Glacier! They cared for my home as if it was their own. The results were phenomenal! Not only does the house look great, but the trim work is protected. We certainly appreciated the way they cleaned up at the end of each day."
We were extremely pleased at the care they took. The finished job is neat and even, despite the fact that the siding had faded irregularly over the prior years. Our landscaping was carefully protected, as were windows & trim. The final result is beautiful and price was outstanding. We'll definitely be calling them again.
Glacier Painting has done work for us twice now. He is so knowledgable, and his work is outstanding. Not only that, but he is a pleasure to work with - prompt, honest and responsible, responsive to questions, with competitive pricing. We would highly recommend Glacier Painting!